Material costs are one of the most important — if not the most important — costs in a construction project. If you're not paying attention to what's happening in the materials market, you could put your construction business into a risky situation.
Material prices have been on a historic rise since the pandemic swept the globe in 2020. Combined with other factors, it's created price escalations unlike anything the construction industry has seen before. These increases can significantly impact your budget and your profits if you aren't planning ahead for potential changes in price.
Understanding how the market has changed as a whole and how to mitigate these price increases in your own accounting will help you develop a better understanding of your business and profitability. In this article, we'll give an overview of the current market, address the main problems it's causing for contractors and subcontractors and offer a few potential solutions for protecting your business.
In This Article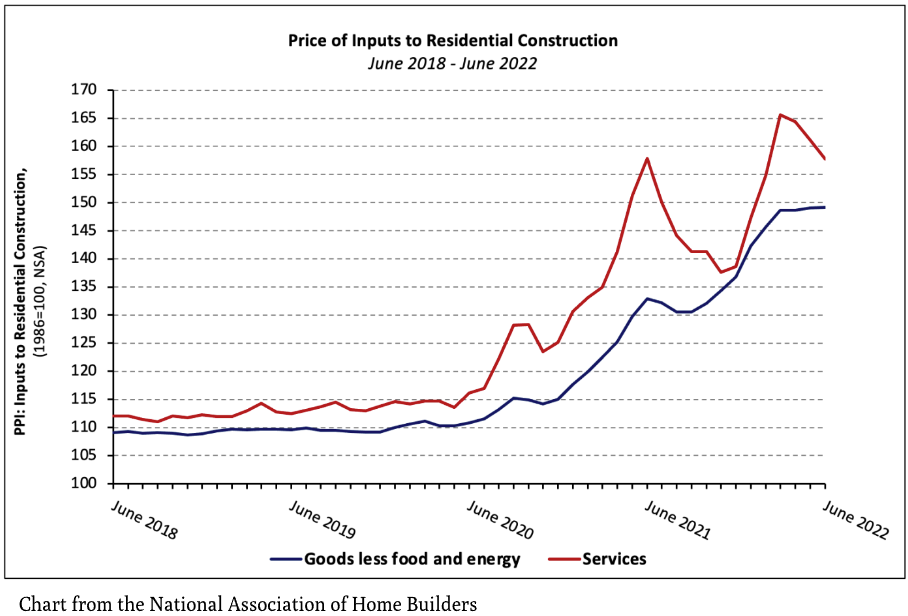 As you can see in the above chart, materials prices have risen more than 30% since January 2020 in most types of goods used in construction.
These changes were first felt in 2021 when the price of construction materials rose 20%, with hardwood prices becoming particularly volatile. The COVID-19 pandemic has been the culprit driving these drastic market changes since it began in early 2020. For example, the price index for lumber was at 420 on Jan. 1, 2020, but by April 1, it had fallen to 259.8 — a 38% decrease in just three months.
The index remained volatile for the rest of the year. These are some 2020 dates and rates that show the drastic swings in the index:
Aug. 26, 2020 – 765
Oct. 3, 2020 – 503
Dec. 31, 2020 – 717
Unfortunately, 2021 didn't usher in any more stability. In that year, the price index hit an all-time high close of 1,670.5 on May 7, crashed to 493.9 on Aug. 11, and rocketed back up to end the year at 1,124.9.
These dramatic rises and drops in the price index caused chaos for many construction businesses. Companies who made hard bids on multi-year projects were suddenly in a position of severe financial strain. Worse, some even went out of business due to rising costs of materials.
Prices have come down some from where they were at the end of 2021, but price indexes are still above historic levels. This is causing unique challenges for contractors and subcontractors alike.
The Challenge for Contractors
The volatility described above makes it difficult to be in the construction industry at times. Material price changes are out of your hands. As a contractor, you're bound to the effects of larger macroeconomic factors at play. This creates the biggest challenge of all for contractors: planning your projects.
Price increases can be incredibly difficult to manage without adversely affecting your bottom line. For example, if you entered into a contract in September 2020 and had to buy all the lumber in December, you would've faced an almost 50% increase in materials costs. Your previously profitable project would've suddenly been lucky to break even.
When economic conditions change drastically, it causes a ripple effect throughout the construction industry. It will affect manufacturers, suppliers, wholesalers, distributors, all the way down to individual contractors. However, if a contractor isn't paying attention to all the factors that affect their industry, their profitability is in significant danger of disappearing.
It's important to view your business as whole, meaning you need to look ahead. You should always know where you want to be 6-12 months from now. This will tell you what you need to do today to prepare for that growth and create a better plan even in the face of uncertainty.
In uncertain times, when the price index is no longer steady, you're faced with tough questions about how to protect your business. We've come up with a few answers for you.
Do You Understand Your Business's Financial Health?
The key to avoiding lost profits during drastic price increases or in a volatile market is to understand your business's financial situation. Without knowing where your money is going or how the changes will affect your estimation, you have no way of protecting your profitability or your business.
Use a quality accounting system to see if your current project margins are supporting your business goals or if you need to make adjustments. Crewcost allows you to create project estimates, track costs and expenses and adjust your budget as a project progresses. Start your free trial today to see how our purpose-built software can help your business.